26 juillet 2014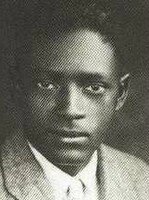 Il y a 64 ans, le 26 juillet 1950, disparaissait Papa Charlie McCoy (ne pas confondre avec Charlie McCoy, harmoniciste et guitariste de musique country). Auteur-compositeur-interprète, mandoliniste et guitariste de Delta blues, Charlie McCoy dès la fin de son son adolescence accompagnait des artistes comme Rubin Lacy, Son Spand, Walter Vinson, Tommy Johnson ou Ishman Bracey. Pendant un moment il a accompagné sa belle soeur Memphis Minnie, puis mené son propre groupe, Papa Charlie's Boys, avant de rejoindre son frère Kansas Joe McCoy dans les Harlem Hamfats.
17 juillet 2014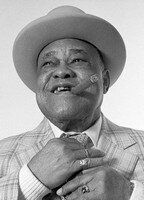 Il y a 31 ans, le 17 juillet 1983, disparaissait Roosevelt Sykes. Pianiste chanteur de blues et boogie-woogie, Roosevelt Sykes en plus d'avoir un jeu de piano bien a lui est doté d'une vraie "gueule" et une jovialité communicative. Son style et sa personnalité ont influencé des artistes comme Henry Gray, Otis Spann, Pinetop Perkins, Henry Townsend, Fats Domino ou Memphis Slim...
15 juillet 2014
Il y a 37 ans, le 15 juillet 1977, une crise cardiaque emportait Big John Wrencher. En dépit de son incontestable talent, les enregistrements de ce chanteur et harmoniciste de Chicago blues, sont malheureusement peu nombreux.
11 juillet 2014
Il y a 21 ans, le 11 juillet 1993, Boston Blackie était assassiné d'un coup de feu par un autre bluesman du nom de Tail Dragger. Tragique fin due à une sordide altercation ayant trait à la répartition des bénéfices d'un spectacle où ils s'étaient produits ensemble. Boston Blackie était un fin guitariste au style de blues assez incisif, sobre, efficace et superbement balancé !
08 juillet 2014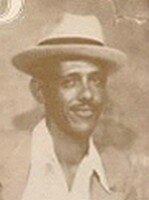 Il y a 23 ans, le 8 juillet 1991, disparaissait Willie Nix. Guitariste, batteur, chanteur de blues et de rhythm and blues, Willie Nix a commencé sa carrière comme danseur de claquettes à l'âge douze ans, et rejoint les Rabbit Foot Minstrels à seize ans. Willie a joué de la batterie derrière plusieurs grandes légendes du blues comme Sonny Boy Williamson II, Muddy Waters, Howlin' Wolf, Elmore James ou Sunnyland Slim.
03 juillet 2014
Il y a 17 ans, le 3 juillet 1997, disparaissait Johnny Copeland. Chanteur et guitariste américain de soul puis de blues, Johnny Copeland influencé par T-Bone Walker et Freddie King, était un maître du blues texan. Il a également accompagné Sonny Boy Williamson, Big Mama Thornton et Bobby Bland.
01 juillet 2014
Il y a 37 ans, le 1er juillet 1977, une crise cardiaque emportait Baby Boy Warren. Initié à la guitare par son frère aîné, ils formèrent le duo "Big & Baby Boy Waren", le surnom lui restera. Baby Boy Warren a travaillé avec Howling Wolf, Robert Jr. Lockwood, Little Buddy Doyle et surtout John Lee "Sonny Boy" Williamson avec lequel il a joué durant plusieurs mois dans une émission de radio.
29 juin 2014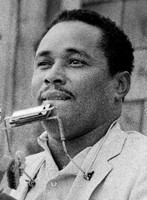 Il y a 36 ans, 29 juin 1978, disparaissait Juke Boy Bonner. Chanteur, guitariste et harmoniciste de blues, Juke Boy Bonner se produisit, dès son plus jeune âge, comme chanteur de rue a Houston ou Austin, ou dans les bars, accompagné par le juke-box du juke-joint, d'ou son surnom. Son style dépouillé viens tout droit des sources du blues.
25 juin 2014
Il y a 29 ans, le 25 juin 1985, une crise cardiaque emportait Pee Wee Crayton. Chanteur guitariste de blues et Rhythm and blues, Pee Wee Crayton a développé son propre style en s'inspirant de T-Bone Walker. On a souvent réduit son jeu de guitare à "un jeu agressif" en oubliant qu'il était capable subtilités intéressantes.
23 juin 2014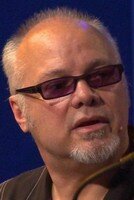 Auteur-compositeur-interprète et harmoniciste blues et soul, Curtis Salgado a débuté sa carrière avec son ami John Belushi et "les Blues Brothers". Sa voix chaude, veloutée, ne forçant jamais ses effets, en a fait un des meilleurs chanteurs de "blue eyed soul" de sa génération, ce qui lui a valu d'être associé à Robert Cray et Santana. Curtis a également enregistré avec d'autres grands noms du blues : Taj Mahal, Steve Miller, Jimmy Vaughan...