17 mai 2016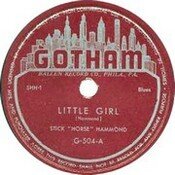 Il y a 52 ans aujourd'hui, le 17 mai 1964, disparaissait Nathaniel "Stick-Horse" Hammond. Je n'ai pas beaucoup d'infos sur ce guitariste et chanteur de blues. Son surnom venait probablement du fait qu'il était unijambiste et marchait avec une jambe de bois.
14 mai 2016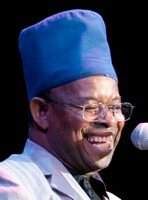 Guitariste chanteur, compositeur, Lil' Ed Williams a été inspiré par son oncle, le slide guitariste J.B. Hutto, avec qui il a joué durant toute son adolescence. Mêlant énergie, humour et bonne humeur, Lil' Ed partage la scène depuis plus de vingt-cinq ans avec les Blues Imperials. Avec ou sans bottleneck, il délivre un Chicago blues intense et entraînant qui prend aux tripes.
07 mai 2016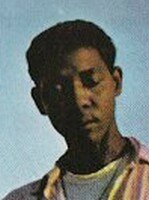 Il y a 26 ans aujourd'hui, le 7 mais 1990, disparaissait Sonny "Cat Daddy" Rodgers, né Oliver Lee Rodgers. Sonny a appris à jouer de la guitare avec son pére Lee Rodgers et a formé son premier groupe à l'âge de 17 ans. Rodgers à joué, entre autres avec Forrest City Joe, Willie Cobbs, Joe Hill Louis, Joe Willie Wilkins, Sammy Lawhorn, Mojo Buford et servi de sideman pour Muddy Waters.
27 avril 2016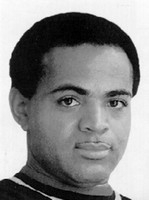 Il y a 32 ans aujourd'hui, le 27 avril 1984, une crise cardiaque emportait Arzell Hill, connu sous le nom de scène de Z.Z. Hill. Chanteur de blues et de soul, Z.Z. Hill a commencé à chanter, comme beaucoup, dans un groupe de gospel. Puis influencé par Sam Cooke, BB King et Bobby "Blue" Bland, il a commencé sa carrière en interprétant ses propres chansons dans les club de Dallas.
26 avril 2016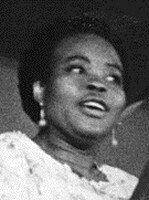 Il y a tout juste 40 ans aujourd'hui, le 26 avril 1976, une crise cardiaque emportait Mable Hillery (quelquefois orthographié Mabel Hillary). Chanteuse de blues, Mable Hillery a beaucoup chanté sur les campus universitaires et dans les prisons du sud de la Géorgie. Elle a également fait une tournée en Angleterre en 1968, aux côtés de chanteurs de Sea Island.
20 avril 2016
Il y a 24 ans aujourd'hui, le 20 avril 1992, disparaissait John Ned Shines, connu sous le nom de Johnny Shines. Chanteur et guitariste de blues, Johnny Shines fut durant deux années l'associé du légendaire Robert Johnson. Johnny a joué avec des bluesmen comme Tampa Red, Big Maceo, Big Bill Broonzy, Willie Dixon et fit des tournées aux cotés de Robert Lockwood Jr (Beau-fils de Robert Johnson). Il fait également partie des créateurs du Chicago blues électrique de l'après-guerre.
16 avril 2016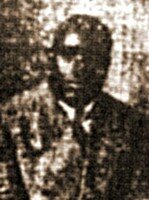 Il y a 62 ans aujourd'hui, le 16 avril 1954, une syphilis emportait Algernon Alexander, dit Texas Alexander. Chanteur de blues, Texas Alexander fut l'un des rares chanteurs de blues à ne s'accompagner d'aucun instrument. Alexander s'est entouré tout au long de sa carrière de musiciens prestigieux comme King Oliver, Lonnie Johnson, Lowell Fulson, les Mississippi Sheiks, Eddie Lang et Lightnin' Hopkins.
03 avril 2016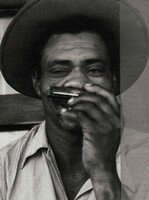 Il y a 56 ans aujourd'hui, le 3 avril 1960 disparaissait Joe Bennie Pugh, connu sous le nom de Forest City Joe (écrit quelquefois Forrest). Harmoniciste et chanteur de blues, Forest City Joe a fortement été influencé par Sonny Boy Williamson I, non seulement il jouait comme lui, mais il chantait comme lui également. Joe a joué avec Big Joe Williams, puis dans l'orchestre de Muddy Waters, il est également apparu au coté de Howlin' Wolf et de Sonny Boy "Rice Miller" Williamson (Sonny Boy Williamson II). Il a également travaillé avec The Otis Spann Combo.
24 mars 2016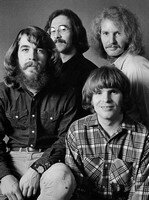 A la fois rock, folk, pop, blues et même aussi Country, Creedence Clearwater Revival (souvent appelé simplement Creedence ou désigné par ses initiales CCR) est considéré comme un des meilleurs groupes de la fin des années 60 et au début de la décennie suivante. Le groupe changea plusieurs fois de nom (The Blue Velvets, The Visions, The Golliwogs) et ce n'est que lorsque John Fogerty revient de l'armée, et décide de prendre les choses en main, qu'il rebaptise le groupe Creedence Clearwater Revival. John se décide alors de chanter de composer une musique simple, des morceaux avec une guitare très présente. A partir de là et pendant cinq années (1967 à 1972), le groupe grimpe au sommet des charts internationaux.
23 mars 2016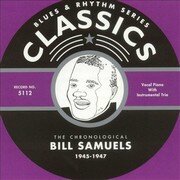 Il y a 52 ans aujourd'hui, le 23 mars 1964, disparaissait Bill Samuels. Chanteur et pianiste de blues et de rhythm and blues, Bill Samuels était le leader et le fondateur du groupe The Cats 'N Jammer Three.