27 octobre 2013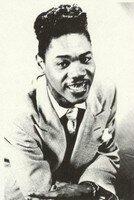 Il y a 22 ans, le 27 octobre 1991, disparaissait Billy Wright. Chanteur de rhythm and blues, Billy Wright a beaucoup influencé, Little Richard, l'un pionnier du rock and roll, et l'a d'ailleurs aidé à obtenir son premier contrat d'enregistrement.
08 octobre 2013
Si Otis Redding était indiscutablement le roi de la soul de Memphis, Carla Thomas, dans les années 60 et au début des années 70, en était sans aucun doute la reine. À 18 ans, elle enregistre un duo avec son père Rufus Thomas, "Cause I Love You", puis atteint la renommée en 1961 avec "Gee Whiz (Look in His Eyes)".
Cause I Love You
Gee Whiz (Look at His Eyes)
18 septembre 2013
Il y a 16 ans, le 18 septembre 1997, un cancer de la gorge emportait Jimmy Witherspoon. Archétype du "blues shouter" (avec Jimmy Rushing), Jimmy Witherspoon n'a cessé d'être le plus jazz des bluesmen ou le plus blues des jazzmen.