06 février 2014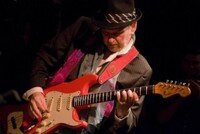 Sacré deux fois "Meilleur guitariste blues" aux WC Handy Blues Awards, Ronnie Earl est passé maître dans l'art du blues instrumental suave et raffiné. Cette approche plutôt instrumentale, lui permet d'étirer habilement ses intros de chansons, d'installer des climats, de respecter les silences. Ronnie aime également flirter avec le jazz.
Concert du 15/02/2013 au B.B. King Blues Club and Grill (News York)
Laisser tourner la playlist de BluesBroad (22 vidéos)
09 août 2013
Il y a 18 ans, le 9 août 1995, disparaissait Jerry Garcia. Connu principalement pour avoir été le chanteur et guitariste soliste du groupe Grateful Dead, Jerry Garcia a joué aussi dans de nombreuses autres formations Old and in the Way, The Jerry Garcia Band, Black Mountain Boys, Legion of Mary, Reconstruction, Jerry Garcia Acoustic Band... Sa grande capacité d'improvisation et son étonnante maîtrise de l'instrument font de lui, aux yeux de beaucoup, l'un des plus grands guitaristes.