29 avril 2018
Il y a 16 ans aujourd'hui, le 29 avril 2002, disparaissait Esau Weary. Je n'ai trouvé aucune info sur ce bluesman...
24 avril 2018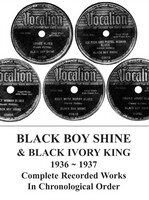 Il y a tout juste 70 ans cette année, en 1948 (je n'ai pas de date exacte), une tuberculose emportait Harold Holliday, connu sous le pseudonyme de Black Boy Shine. Chanteur et pianiste de blues assez doué, Black Boy Shine était actif dans la région de Houston.
15 avril 2018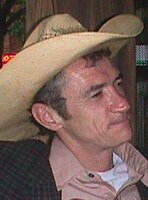 Il y a 14 ans aujourd'hui, le 15 avril 2004, une crise cardiaque emportait Ray Tremblay, dit Ray Condo. Chanteur, saxophoniste et guitariste, Ray Condo est principalement connu pour avoir fonder the Hardrock Goners, un groupe culte reconnu pour son mélange énergique de rockabilly, de blues de style Chicago, de country traditionnel et de western swing.
02 avril 2018
Il y a 22 ans aujourd'hui, le 2 avril 1996, disparaissait Robert Lewis Jones, plus connu sous le nom de Guitar Gabriel ou de Nyles Jones. Auteur-compositeur-interprète, Guitar Gabriel avait un jeu de guitare unique qu'il qualifiait lui-même de "Toot Blues". Ce style combinait le Piedmont Blues, le Texas Blues, le Chicago blues et le Gospel.
24 mars 2018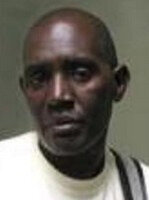 Il y a tout juste 10 ans aujourd'hui, le 24 mars 2008, Chalmers Edward "Spanky" Alford disparaissait après une longue lutte contre le diabète. Guitariste de jazz, Chalmers Alford était connu pour son style de jeu et son utilisation des arpèges. Spanky a également été guitariste du quatuor de gospel traditionnel The Mighty Clouds of Joy.
02 mars 2018
Il y a tout juste 30 ans aujourd'hui, le 2 mars 1988, disparaissait Roy Dunn. Guitariste et chanteur de blues, Roy Dunn a commencer chanter dans le quatuor de gospel familial les Dun Brothers. Après avoir tourné avec d'autres groupe de gospel, Roy a croisé le blues et joué avec des légendes comme Curley Weaver, Buddy Moss ou 'Blind' Willie McTell.
27 février 2018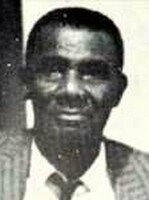 Il y a 23 ans aujourd'hui, le 27 février 1994, disparaissait Roosevelt Holts. Chanteur et guitariste, Roosevelt Holts, bien que bluesman depuis les années 1930, n'enregistra pour la première fois qu'en 1968.
07 février 2018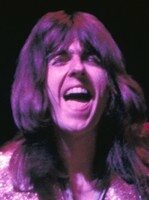 Il y a 18 ans aujourd'hui, le 7 février 2000, David Jack Peverett, dit Lonesome Dave, mourait d'une double pneumonie dûe à un cancer. Auteur-compositeur-interprète et guitariste, Dave Peverett était connu comme membre fondateur du groupe de rock Foghat. Auparavant Dave faisait partie du groupe de blues rock Savoy Brown.
11 décembre 2017
Il y a 35 ans aujourd'hui, le 11 décembre 1982, disparaissait Lazy Bill Lucas. Guitariste, pianiste et chanteur, Lazy Bill Lucas a commencé sa carrière de bluesman en chantant dans les rues d'Advance (Missouri). Lazy a accompagné, à la guitare, des artistes comme Big Joe Williams, Sonny Boy Williamson II, Willie Mabon, Johnny "Man" Young, Jo Jo Williams, Homesick James, Snooky Pryor ou Little Walter. Plus tard Luca passa au piano et travailla comme sideman pour divers groupes de blues.
13 novembre 2017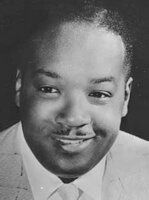 Il y a 21 ans aujourd'hui, le 13 novembre 1996, une crise cardiaque emportait William Ballard Doggett, dit Bill Doggett. Claviériste, arrangeur de jazz, blues et de rhythm and blues, Bill Doggett est principalement connu pour son titre "Honky Tonk". Bill a travaillé avec des artistes comme Johnny Otis, Wynonie Harris, Ella Fitzgerald, Louis Jordan ou les Ink Spots.